Thermaltake Versa N21 ATX Mid Tower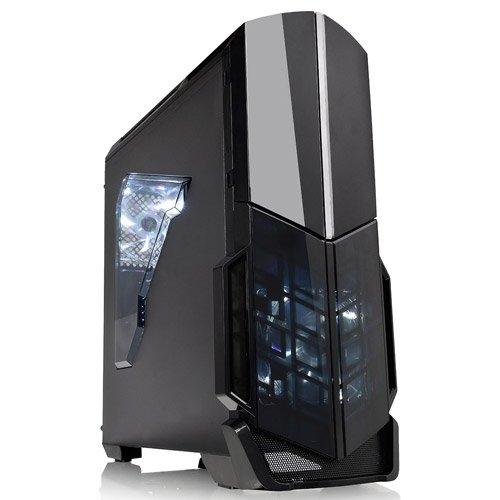 The Thermaltake Versa N21 is a great mid-tower computer gaming case that will give you plenty of room for all your hardware. This gaming computer case was built specifically for gamers and comes with a glossy black finish as well as transparent top and front panels with a triangular shaped side window. It supports both 3.0 USB and 2.0 ports and gives you HD audio ports in both the front and back.
This will give you an amazing budget tower for your gaming build for a very cheap price while maintaining a very high quality and a beautiful design in a mid-tower chassis. Find the case dimensions and key features down below.
Case Type: ATX Mid Tower Chassis
Case Dimension (H x W x D): 20.2" x 8.5" x 18.2"
M/B Type: ATX (12.0″ x 9.6″), MicroATX (9.6″ x 9.6″), Mini-ITX (6.7″ x 6.7″)
Side Panels: Window
Supports Standard PS2 Power Supply
External Bay: 1x 5.25″, 1x 3.5 (Floppy)
Internal Bay: 3x 3.5″ or 2.5″ (HDD Cage), 1x 2.5″ (M/B Tray) – Hidden
Expansion Slots: 7
Front I/O Panel: 1x USB 3.0, 2x USB 2.0 1x Headphone, 1x Mic Ports
Translucent Panel and Concept: Designed for gamer, the glossy black front/top panels deliver stylish images. The heightened foot-stands at the bottom help enhance airflow, and a triangular transparent side window offers a direct view of the inner system.

Tool-free Design: The innovative 5.25″ & 3.5″ tool-free drive bay design minimized the hassles of installation/removal. The trio drive bay concept of "1 + 4 + 1" offers a good ratio for accessories and storage devices.

Hidden I/O Ports: The top-front panel features one USB 3.0 data transfer port along with two standard USB 2.0 ports as well as HD microphone and headset jacks to grant direct access when needed.

Optimized Ventilation: A pre-installed 120mm rear exhaust fan and 2 optional 120mm intake fans with an integrated dust filter optimize system ventilation.

More: Pre-mounted holes support motherboards up to standard ATX. CPU cooler installations with up to 160mm radiator at the top and 250mm long graphic cards are supported.

Warranty: 3 Years.
Corsair Vengeance Series C70 Mid Tower Computer Case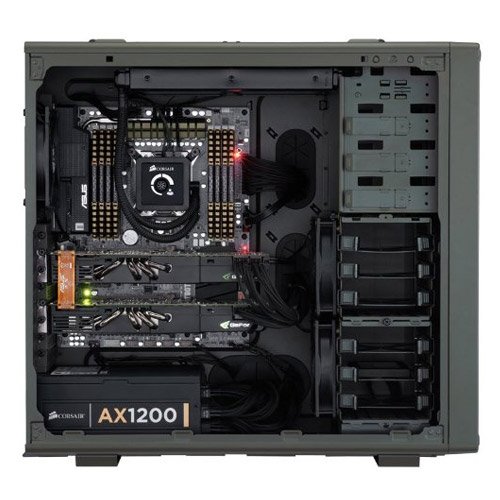 Drive Bays (x3) 5.25″, (x6) 3.5″/2.5″ Drive Caddies
Cooling (x2) 120mm Intake fans, (x1) 120mm Exhaust Fan
Expansion Slots 8
Motherboard ATX, mATX
Front I/O (x2) USB 3.0, (x1) Headphone, (x1) Mic
Power Supply ATX (not included)
Up to 10 fan mount locations provide a ton of cooling flexibility.
2 Year Warranty
The Corsair Vengeance Series C70 black mid-tower gaming computer case is another option you don't want to overlook. It is one of the most popular computer cases on Amazon with over 400 customer reviews and an extremely high rating of 4.8 out of five stars.
Features of the Corsair Vengeance Series C70 gaming computer case
This computer case has two 120 mm intake fans and one 120 mm exhaust fan. There are eight expansion slots as well as three drive bays and six drive caddies. The motherboard fitment is in ATX and mATX. There are two front I/O USB 3.0 as well as one headphone plug and one microphone plug. The power supply is also in ATX and there are up to ten fan mount locations that will allow you to optimize your cooling set up in your case.
Purchasing this gaming computer case from Amazon will give you a two-year warranty. The case is currently on sale with a price of $109.99, which is a 24% discount from its list price of $144.99. The case is also currently in stock and ready to be shipped with Amazon prime and is stocked and shipped from Amazon's warehouse, which means there shouldn't be any delays.
Ratings and reviews
What's amazing about this gaming computer case is that there are no 1 star reviews. Most of the people who bought this case gave it a five star rating. One user said that it has a very military style appearance and its distinctive from other gaming computer cases. It designed with a durable steel construction and there's plenty of room inside to work with if you have large computer hardware. Some of the graphics cards that you purchase these days are very bulky and won't fit into smaller cases.
Rosewill Gaming ATX THOR V2 Full Tower Computer Case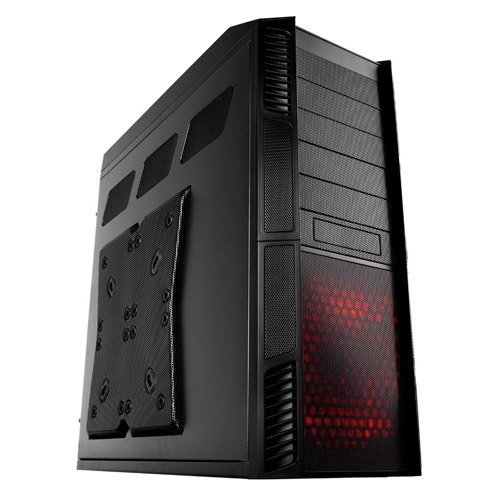 Type: ATX Full Tower
Motherboard Compatibility: Micro ATX, ATX, E-ATX, XL-ATX
Internal 3.5″ Drive Bays: 6
Expansion Slots: 10
2 x USB 3.0 (internal 20-pin connector to MB), 1 x e-SATA, 2 x USB 2.0, Audio In/Out (AC97, HD), 2 x Fan speed control knob
1 x Rear 140mm Fan
Gaming type – Allow to swing top fins to increase air flow
Easy to remove / install front 5.25″ bay covers
Last on our greatest list of gaming cases is the slick looking Rosewill Thor V2 computer tower.
It was named after a powerful, fictitious warrior Thor. It's a full ATX tower computer case that was built specifically for gaming and has a very attractive look to it as well as a functional design that will help you run your overclocked components in a very cool environment.
There is a very great airflow in this case and the entire design and construction materials are top-of-the-line and built with durability in mind. Inside this case you will also find an advanced cable management system and water cooling support if you would like to upgrade your cooling even further.
This case measures in at 21.89 x 9.14 x 22.84 inches (L x W x H) and weighs around 39 pounds, so it is quite heavy for an empty computer case, and will significantly heavier with all your hardware in it.
Users who purchase this case said that it has a very excellently designed airflow and comes with three 230 mm fans along with the built-in fan controller, which isn't something you typically find with most cases. They also said that the interior is huge and that the heavy gauge steel is very sturdy. Pretty much everything that the seller said in the description.