Meet the best gaming mouse under $10!
Click here to shop all high rated mice for under $10 on Amazon.
When it comes to gaming, you do not necessarily need to have 15 different customization buttons on your mouse. This is especially true for low-intensity and kids games. But a low-cost, budget mouse can even work for first-person shooter games, such as Call of Duty, Fortnite, and Counter Strike: Global Offensive.
For most games, a basic mouse with a left and a right clicker and a scroll wheel will be perfectly sufficient to be able to do everything necessary within the game. If you are into more complicated games that require a lot of different buttons and keys to be pressed on your keyboard and mouse, then having many different customization buttons on your mouse might be highly beneficial for you.
Simultaneously, if you're one of the top 0.01% of players in a game and need every competitive advantage you can get, you'll want to go for a higher-end model. But for everyday, casual gaming, there's no reason to break the bank!
So if you're still interested in buying the best, cheap gaming mouse that's under $10, then this list is for you! Of course, you could stress over which mouse to buy, as you decide which one you think looks best and then see what features it has and then read some of the reviews from customers and see what other people are saying on Amazon. Or you can let me handle all that and bring the top 5 to you below! 😉
These would make great affordable gifts 🎁, stocking-stuffers 🧦, and office swap 🏢 ideas. They look like much more expensive products and you only have to spend $10, which is freaking awesome!
Without further ado…
HAVIT HV-MS672 Gaming Mouse
Buy it Now!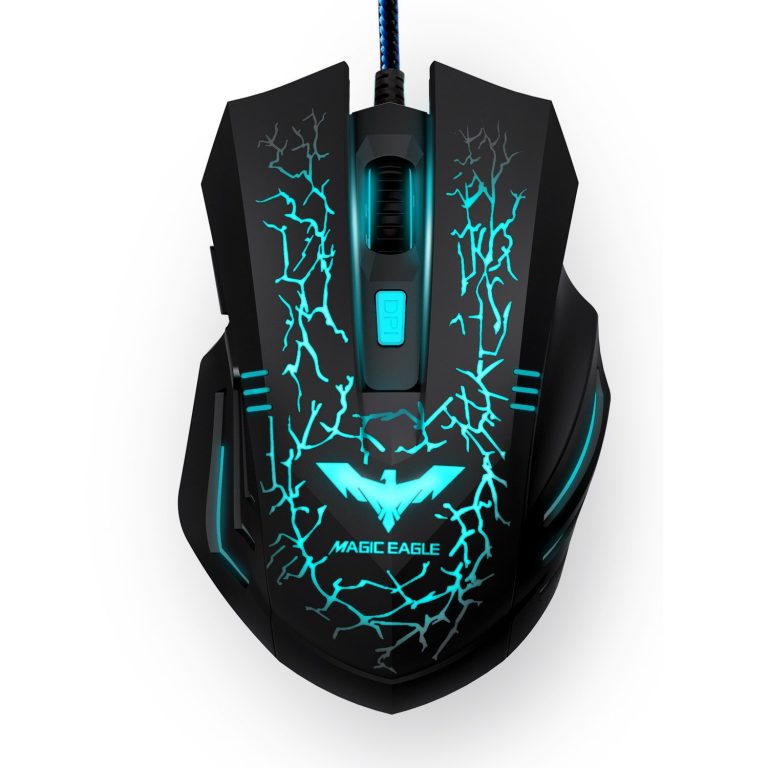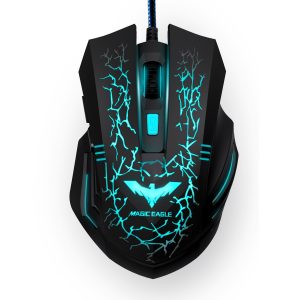 The HAVIT HV-MS672 Gaming Mouse kicks off our Budget Gaming Guide!
The first gaming mouse on our under $10 gaming mouse list is the HAVIT HV-MS672! One perk of this mouse is the ergonomic design, which we learned is incredibly important! It has a nice fit and feels natural in your hand for being so cheap.
This HAVIT HV-MS672 gaming mouse is also extremely popular, with over 5,000 customer review.
The mouse has 7 different LED lights that change, based on your DPI, which is pretty cool. You can also customize them to look exactly the way you want, leading to flexible designs with really cool LED effects.
You can also control the DPI between 4 different settings of 800, 1200, 1600 or 2400. This mouse also has an ergonomic design and it will fit nice and feel natural within your hand.
There are also 6 different programmable buttons on the mouse so that you can get more done when playing games.
HAVIT HV-MS672 Gaming Mouse
6 programmable buttons.
7 changing LED lights that correspond to your DPI.
Braided, wired cord.
Ergonomic, yet extremely lightweight.
The programming on the Havit is very simple and straightforward. All you have to do is plug it into your computer and it should work without any additional software, downloads, or drivers required.
You also get a full one year manufacturer's warranty if you purchase this mouse on Amazon through Havit, but read more about this on the Amazon page if you are interested in learning more.
VicTsing 6-Button Gaming Mouse
Buy it Now!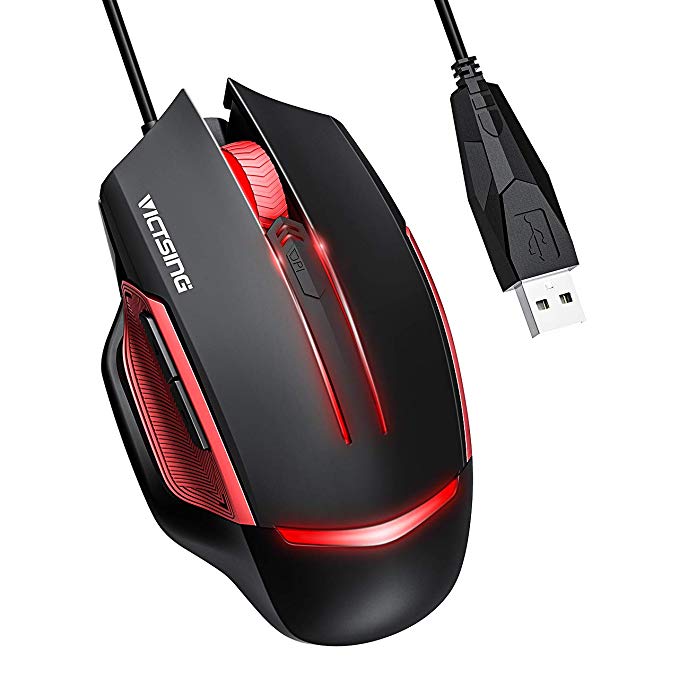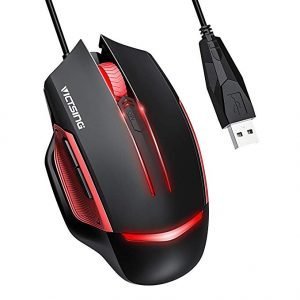 The VicTsing 6-Button gaming mouse is another strong affordable mouse
This is another popular gaming mouse by VicTsing. However, as with most VicTsing products, it gets the ol' Plain Jane treatment when it comes to it's name.
The 6-Button Gaming Mouse is a great budget gaming mouse for less than $10. It has 4 Adjustable DPI levels (3200,2400,1600,1000) and comes with 6 programmable buttons, 2 of which are on the side for quick access.
There aren't a million bells and whistles, but it clocks in with over 4.5+ average reviews from satisfied gamers worldwide!
No products found.
Many customer reviews agreed the size on the VicTsing 6-Button mouse felt "medium." It's 6.4 oz weight seems to back that up, making this a strong pick to take a little extra beating along the way. I'm not saying gamer gets salty and smashes their mice, but I know some do!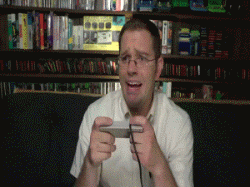 One common gripe I noticed in the reviews were the short length of this mouse. If you have a long distance to cover from your hand to a USB port, I'd consider another gaming mouse.
VicTsing Backlit Gaming Mouse
Buy it Now!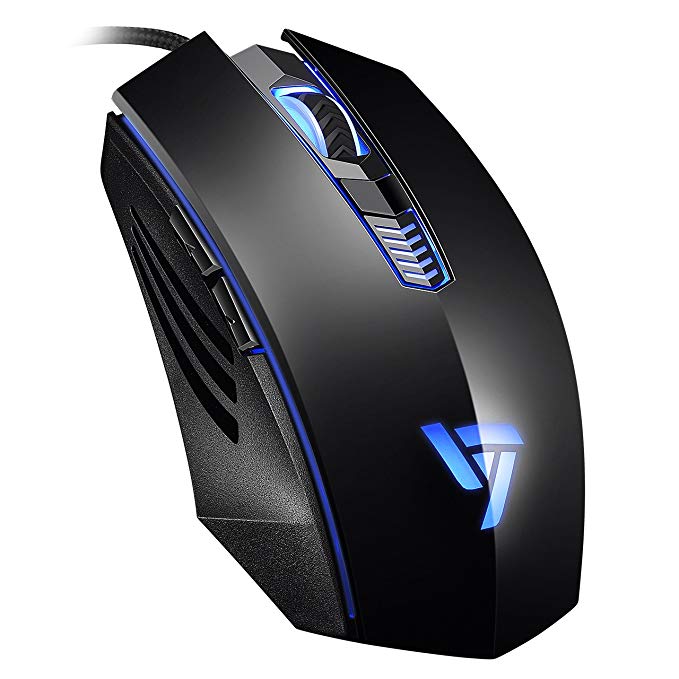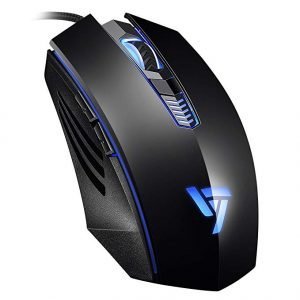 When price is a worry, look at the VicTsing Backlit.
If budget is the name of the game, the VicTsing Backlit gaming mouse is worth a strong consideration. It's easy to find a really cheap gaming mouse, but it's hard to find one with as high reviews as the VicTsing Backlit.
However, despite the drop on price, you sacrifice nothing in terms of perks! The Backlit matches other mice on this list with 4 adjustable DPI levels, a wired cord, 6 handy buttons, and even 4 cool backlight modes.
No products found.
If you don't have great air circulation or suffer from sweaty hands or palms when you game, then you'll be happy to know the VicTsing Backlit comes with an anti-slip coating. No more blaming your defeat on a slippery mosue!
Many users also commented that the VicTsing Backlit was very comfortable and user-friendly and that the DPI is easily changed. This enables gamers to quickly adjust their gameplay from a lower DPI to play casual games and then even faster to a higher DPI the play more action-packed games.
VersionTECH RGB Gaming Mouse
Buy it Now!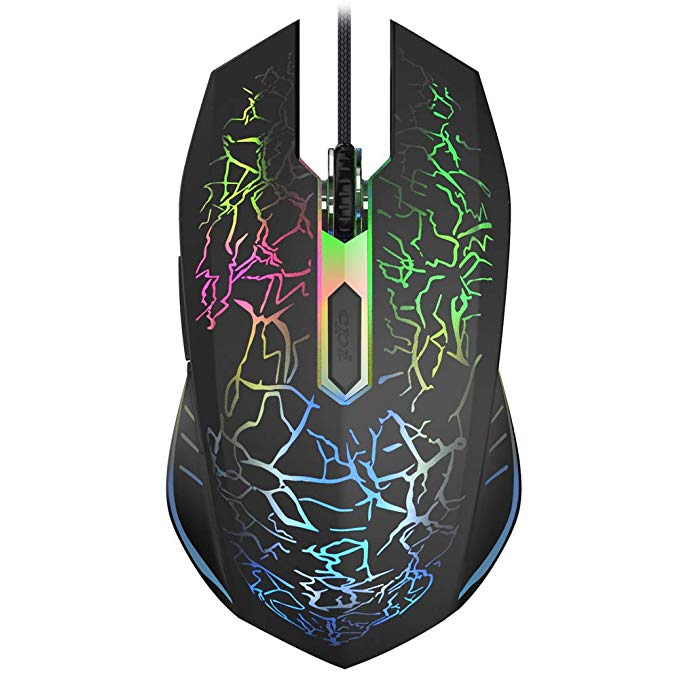 Next is the VersionTECH RGB for a wild look!
The VersionTECH RGB gaming mouse if probably one of the more interesting looking gaming mice on this list. It has a 7-color RBG breathing lights setup. With multiple colors glowing at once, this mouse gives off an amazing atmosphere.
However, while it looks cool, don't overlook it's massive 1,1148 great reviews! This is by far the highest rated, discount priced gaming mice I could find!
In fact, I think this is the best gaming mouse under 10 dollars!
This optical, wired mouse comes standard with the same 4 DPI settings and 6 programmable buttons. It also has a key life guarantee of 5 million clicks, which might explain part of it's great customer rating.
The RGB also contains an ergonomic design that uses an asymmetrical layout. This helps bring your wrist into a natural position when using the mouse, assuming you're right-handed of course!
Many users have purchased this mouse They noted that the mouse also looks very good and has responsive buttons and everything works just as they expected. They also said that the glow effect of the mouse looks very nice and that it is great for gaming in darkly lit rooms but it doesn't have an automatic sleep function so you have to turn it off manually if you do not want the light to be too bright.
VersionTECH RGB Gaming Mouse
Highest rated discount gaming mouse, by far!
7 Breathable LED lights with multiple colors glowing at once.
Accurate and responsive optical sensor that precisely translates hand movements onto the screen.
Many of the customer reviews were highly satisfied with their purchase. In my opinion, it's a very great value for a gaming mouse and the fact that it's one of the cheapest on the market is just icing on the cake.
VicTsing Wireless Gaming Mouse
Buy it Now!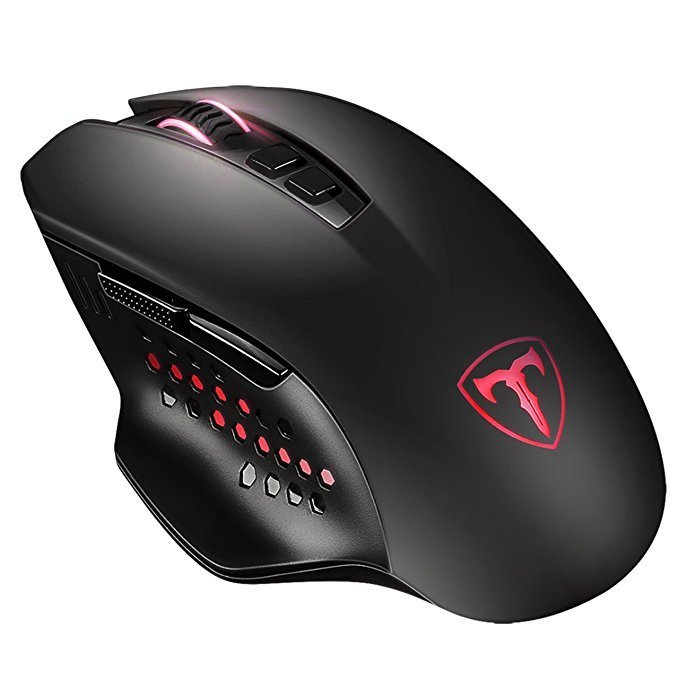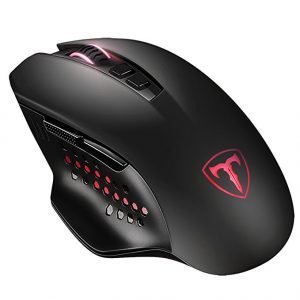 For mobility, the VicTsing Wireless takes the cord!
While not optimal for competitive gaming, a wireless mouse is wonderful for many other types of gaming. Laid back games, like Stardew Valley, Minecraft, and Hearthstone are perfect for wireless mice. And with a cordless gaming mouse, you can get in the ultimate comfortable position from either your chair, couch, or bed!
The VicTsing Wireless gaming mouse was the best budget, wireless mouse on the market.
On top of no cord, the VicTsing Wireless actually has 5 adjustable DPI settings. This is more than most of the other cheap gaming mice we found! It also has a 7-button design!
No products found.
Honestly, I wouldn't have thought about battery life had VicTsing not pointed out that the Wireless offers a 15-month battery life. That's fantastic! This means you won't be burning through cash with new batteries every few weeks, like some other cheap gaming mice do.
We found the working range to be slightly less than 50 feet promised in the description. However, further down, you'll notice it says 33ft and we found this about right. It should work perfect in any normal sized room and even in some slightly larger ones. A 33 foot room is bigger than you think!
Redimp GM300 Gaming Mouse
Buy it Now!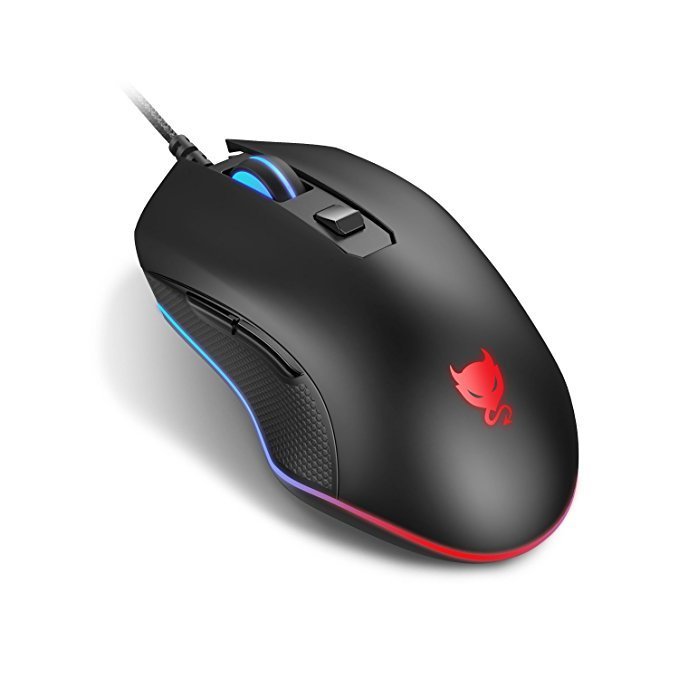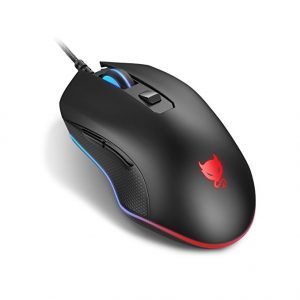 Sleek and sexy is the Redimp way!
The Redimp GM300 gaming mouse is possibly the slickest budget gaming mouse I came across. Just look at that devilish red imp with blue, purple, and red trim. Hot damn!
Beyond looking cool, the GM300 is a great mouse for an affordable price. One perk I noticed was Redimp gave the highest button guarantee out of all the mice on this list. They claim all buttons passed 20 million stroke tests!
The design also has an anti-skid shell for better grip without as much force or pressure.
One drawback is the 4.9 foot cord. Again, if you have a long distance to reach, I'd look for a different mouse. Also, while I love the backlight LED, it's not customizable. So if you don't like the look of this, it's probably not for you.
Sale
Our pick!
Our pick!
As you can see, you don't have to spend a million bucks to find a high quality, affordable gaming mouse. Whether you're looking to game at home, stream on Twitch, or even find a backup or spare mouse – all of this can be accomplished for under $10!
Product info last update on 2023-12-09 / Affiliate links / Images from Amazon Product Advertising API