Today we are going to be looking at the best gaming headset under $30
But first, before anything, make sure you always check the Gaming Headsets Lightning Deal page first! Depending on your luck, you might find a great $75 headset on sale for less than $25!
SADES Spirit Wolf Gaming Headset
Buy it Now!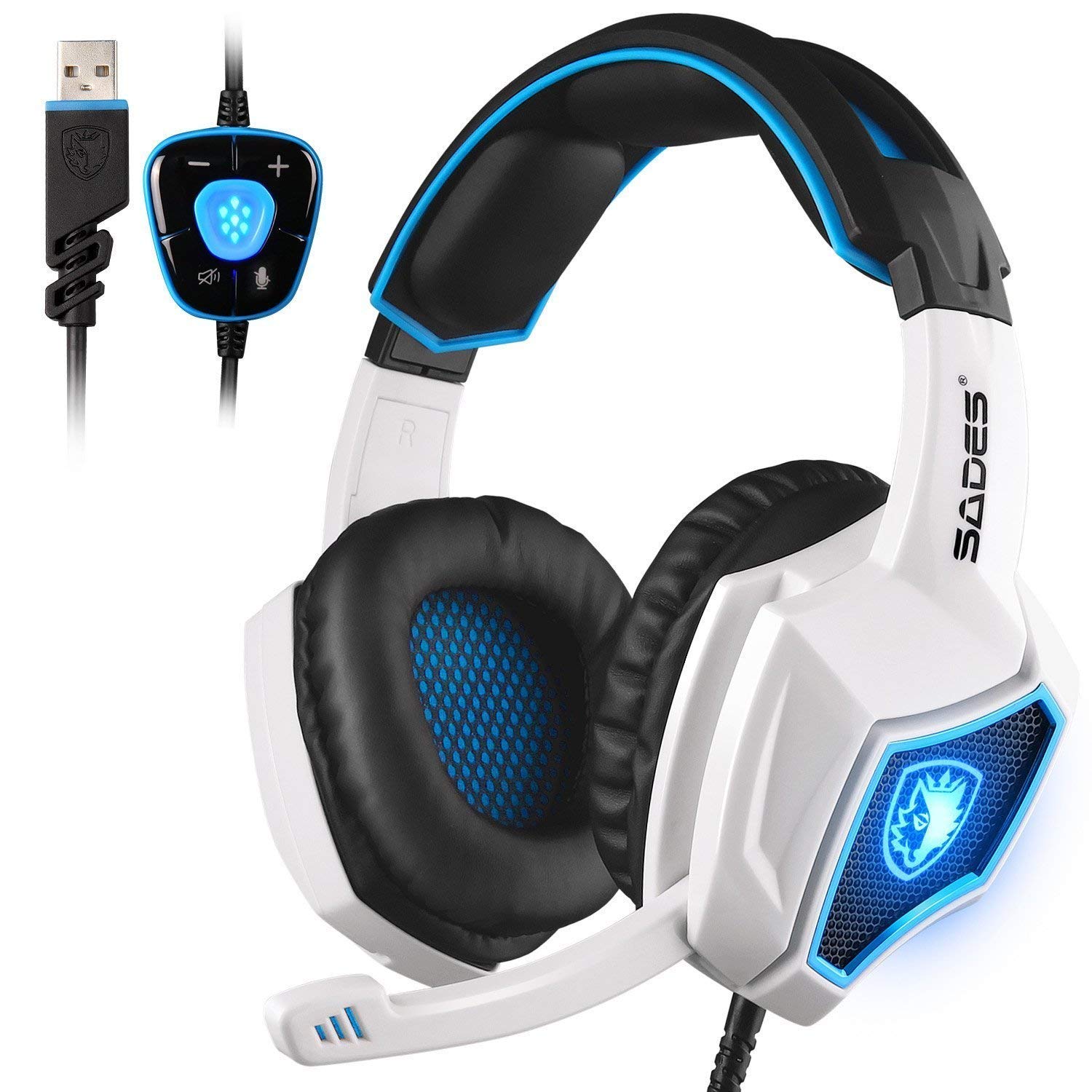 While it's hard to find a perfect gaming headset priced under $30, it's not impossible! It won't be the best headset you've ever bought, but we found the Sades Spirit Wolf to give us the biggest bang for our buck without breaking the bank! In fact, while the Spirit Wolf is one of the latest versions of gaming headsets from the popular PC accessory company Sades and despite normally being priced near $80, it's currently being sold at over a 60+% discount!
Sades Spirit Wolf Gaming Headphones
LATEST HIGH MAGNETIC NDFEB DRIVER:More clear sound gaming headset, with the strong brass, acoustic positioning precision, you can feel the full force of an explosion, a grenade blast, or a brostep drop.Glaring and breathing LED lights are designed on the earcups and microphone, highlighting the atmosphere of the game.
COMFORTABLE FIT AND CONVENIENCE: In this gaming headphones all contact points are finished in soft but durable materials, and the updated memory foam around each earcup keeps you comfortable for long periods.Line is equipped with a rotary volume controller, one key Mic mute, more convenient to use.
HIGH QUALITY SENSITIVE MICROPHONE: The gaming mic in our headphone is high sensitive and durable. It's crystal clear and well-grounded so it doesn't crackle as you adjust it.
COMPATABILITY: Headset works with PC, Laptop, computer. Notice: Please kindly know that all the products would be checked or tested before shipping out to ensure a good shopping experience.
NOISE CANCELING: Updated closed earcups design in PC Gaming Headset,PLUGS AND PLAY covers your entire ear and cuts out external sound very effectively, and with none of the irritating 'seashell effect' many headsets suffer.Environmental Protection Materials.
Thanks to it's build and construction, the Spirit Wolf headset features noise canceling capabilities that most headsets under $30 don't have. It works by a closed ear cup design that easily covers your entire ear and helps the cut out any outside noise, which allows you to play games or listen to music without any outside distractions.
The Spirit Wolf headset also features high magnetic driver units which help bring a crisp & clear gaming sound. Most headset at this price range have a muddy or fuzzy sounds, but this headset has a strong bass, decent overall volume, as well as "acoustic positioning precision" technology.
The overall design of this headset is probably the best part because it looks just as good as many gaming headsets that are well over $100 and it uses a USB connector with a built in audio decoder as well as a very cool looking design with LED lights that are colorful and bright.
The high quality silicone microphone also sets this gaming headset apart from other much cheaper designed headsets that lack in microphone quality. The sound is very soft and durable and it is crystal clear as well when you're trying to get your voice across it at your teammates know where you are. No more sounding like you're underwater or using a Walmart headhphone, hurray!
The Spirit Wolf doesn't crackle when you adjust the mic, which is yet another classic symptom of many cheaper headsets!
It is a very comfortable and has a lightweight fit, especially with the soft and durable padding, so you can wear it on your head for extended hours at a time without any discomfort! It even has slight memory foam around each ear cup so your ears are at max comfort when wearing the headset!
This is almost unheard of with gaming headsets, especially ones that are very cheap and affordable yet high quality designed.
ONIKUMA Gaming Headset
Buy it Now!
The ONIKUMA is our number 2 ranked gaming headset in this budget price range.
This headset helps bring your games to life and creates a vivid sound field as well as sound clarity and a sound shock feeling. The pads for your ears are very soft and comfortable to wear for long times of gaming and it is very nice for a budget headset.
No products found.
The sound quality is great. During FPS test play, we found the gunfire to be crisp and realistic. The microphone quality was also above average.
In addition to gaming, we found the ONIKUMA worked wonderfully for watching Twitch streams and chatting in Discord. After a quick fine-tuning in Discord, we could easily communicate with hundreds of fellow gamers around the world. Not a single person had trouble hearing us at any time!
SADES SA708GT Gaming Headset
Buy it Now!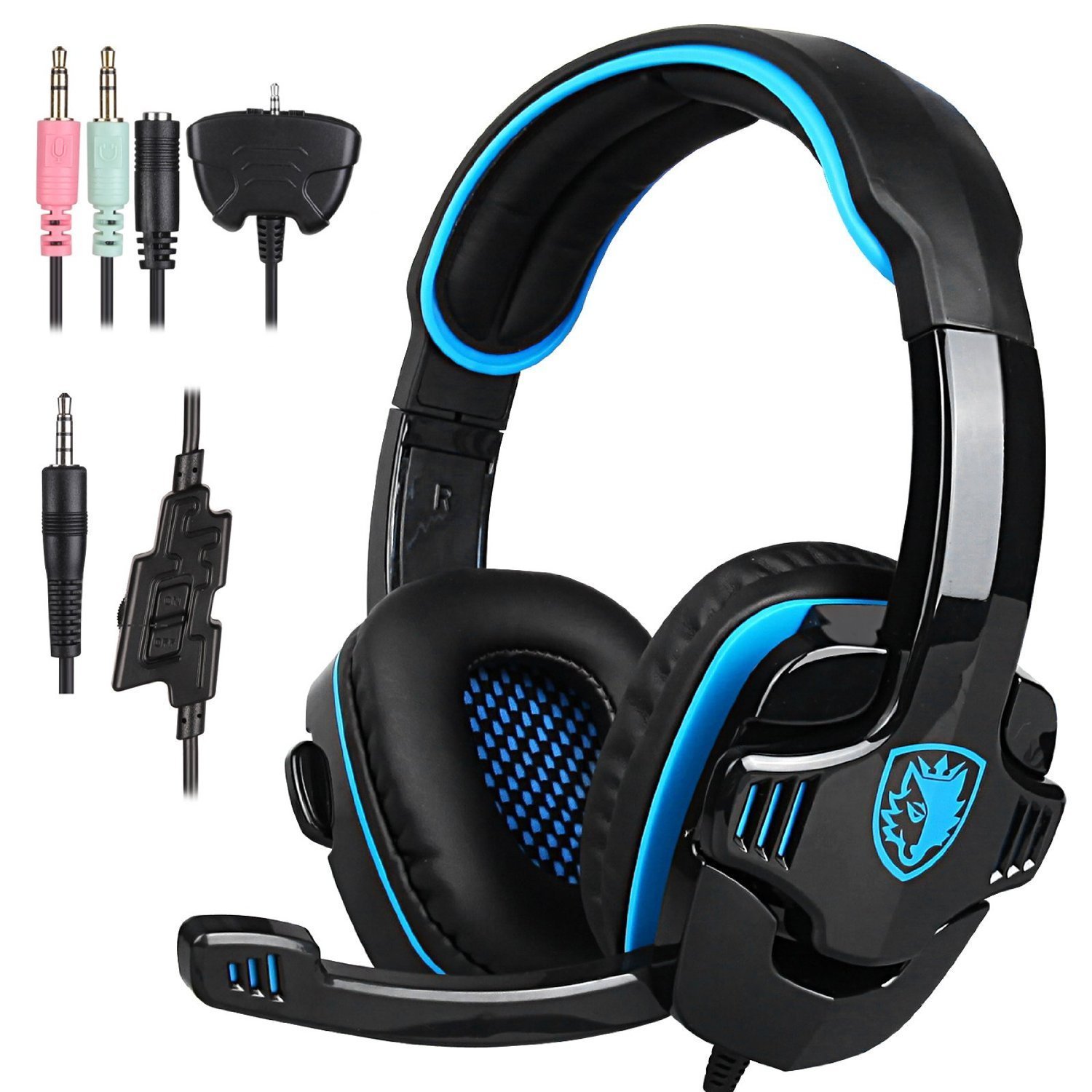 As we've pointed out with an earlier review, the SADES SA-738 GT gaming headset is one of the best buys on the market. It not only is the best bang for your buck, but it also works with every major gaming system and actually sounds amazing!
While analyzing customer reviews, we noticed the microphone was highly regarded, with many reviews saying that it picked up a lot more sound at a much higher quality then many other gaming headsets. Some reviews said this was because it is very isolated and gives you a very good out-of-the-box sound that you shouldn't be disappointed with for under $30!
Multiple reviews also commented that this headset adjusted very well to larger heads and even people with smaller heads. As somebody with a small head, I have to agree! Reviews also said it still feels very comfortable without a lot of pressure on your head so that almost anyone who buys this headset should be able to wear them comfortably for long periods of time.
Sades SA-738 GT Gaming Headphones
EMI/RFI Shielding to prevent electromagnetic/radio-frequency interference, ensuring you a good mood when playing game
Unique, well shaped and designed gaming headset, with foldable hidden microphone
Premier SADES-AFV volume control with extra Mic-muted function
Soft PU leather cushion ear-pad and head-pad, very comfortable to wear
SADES is the official Partner of WCG(World Cyber Games) China 2013. It can work on Xbox One, PS4, PC, Computer, Mobile Phone due to it's 3.5mm jack.
It is also great because it delivers a very deep bass sound which helps you get really immersed into games and adds some sub sound to the headset which may or may not be attractive to you. The build quality is very nice for this headset and they are very easy to use because you just pull them out of the box and you plug them in and you're ready to go and play.
This headset is definitely worth the money and you can't really go wrong with such a cheap headset. It delivers very crystal-clear sound and the basses both deep and rich and will provide you an excellent headset if you take care of it for many years.
NUBWO N2 Gaming Headset
Buy it Now!
Meet the N2 Gaming Headset by Nubwo.
They are an extremely popular headset on Amazon with over 1500 great customer reviews and wide range of user-based questions and answers. The N2 gaming headset uses a high quality and portable design so that you can take on the road with you to competitions and events, while also fitting the need of a solo gamer on virtually any system. It works with all major consoles and computers.
It is also Energy Star Certified so it won't use up too much energy whenever you are using it, if that is even a concern for you, it might simply end up being something that you joke about whenever you are at a competition or a LAN party, letting everybody know that you are supporting the environment with your gaming.
This N2 Gaming Headset has lots of other awesome features such as a detachable microphone and a very lightweight and comfortable design backed by an awesome one-year warranty.
Nubwo N2 Gaming Headset
SUPERIOR SOUND:Dual 50mm drivers provide a crisp, rich and distortion free sound. Resonating bass offers a full range-listening experience. Strong bass, crystal clear audio.
PREMIUM MICROPHONE: Noise-canceling microphone boom perfectly captures the user's voice and simultaneously eliminates unwanted background noises. Humanized mic cover and mute control on the microphone ensure you are heard anytime you want.
LIGHTWEIGHT COMFORT: The suspension style headband automatically conforms to the user's head and is designed for comfort during long periods of use. The memory foam ear cups seal out unwanted noises, yet fit very ergonomically around the ears.
HANDY CONTROL: Rotary volume adjuster housed on the ear cups for convenient use.1.6 meters of tangle free braided wiring ensures longevity and no audio quality loss.
BROAD COMPATIBILITY: Works great with new Xbox One controller with the 3.5mm jack, PS4 Pro and PS4, as well as PC, Mac, and mobile/tablet devices with a 3.5mm connection.
So there ya have it! These were the best gaming headsets we could find under $30. They work universally, have great reviews, and actually sound good! What more could you want?
Product info last update on 2023-12-09 / Affiliate links / Images from Amazon Product Advertising API