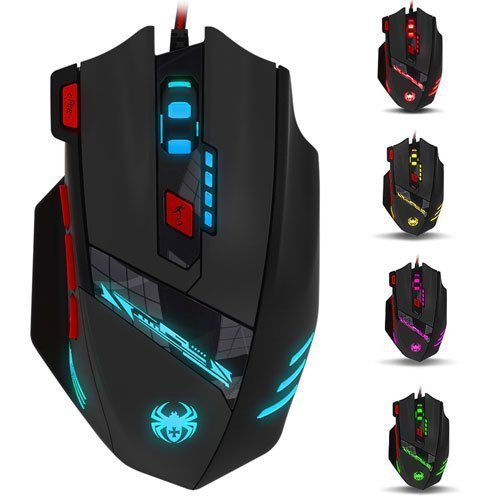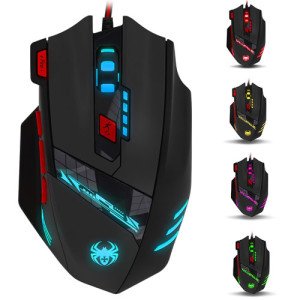 The Kingtop T-90 gaming mouse is really a mouse that you should look at when you're shopping for a mouse that has tons of very cool features for a very low price. This mouse is currently on sale for a 68% discount and is being sold for only $18.99. Its original list price is $59.99.
Gaming Mouse Features
Kingtop T-90 features a 9200 DPI as well as the ability to configure your DPI on the move. One of the cool things about this gaming mouse is that as you adjust your DPI, which is essentially the speed that your mouse pointer moves across the screen, as you adjust this, your mouse and changes colors. So if you are running a 1000 DPI, then your mouse is colored red, a 2400 DPI however makes your mouse light up green.
This mouse also has built in the weights, with 8 total that can be adjusted according to your preferences. This will help your mouse be either lighter or heavier depending on your requirements. It was also designed ergonomically, so that your hand doesn't get too tired as you play for long periods of time.
Ratings and Reviews Online
So far this is a great gaming mouse with lots of features, but let's see what users have been saying about it online.
Although the mouse is a new release, their already over 150 ratings and reviews from people have been using it. It currently holds a 4.5 out of 5 star rating, and users had a lot to say about it online.
One user said that the mouse was mainly designed for FPS games and not for other games such as strategy games. One of the great things about this mouse is that it is extremely light and will allow you to make quick moves with extreme precision once you get your mouse settings down perfectly. It also has very light clicks, so that you don't have to apply anymore pressure the necessary when you're making your frag's.
This mouse is also wired, which means that you will have a consistent and fast signal from your hand movements to your computer. Wireless mice definitely are not for competitive gamers.
Overall this is a great mouse and it is definitely something you should look into when you're buying a gaming mouse. With the current discount on Amazon, you're getting a wonderful deal and saving a lot of money by getting a high-quality mouse without having to spend tons of money. The only thing you should think about when buying this mouse is if you like the style and look of it and if you think your hands will be able to comfortably use the mouse for long periods of time.