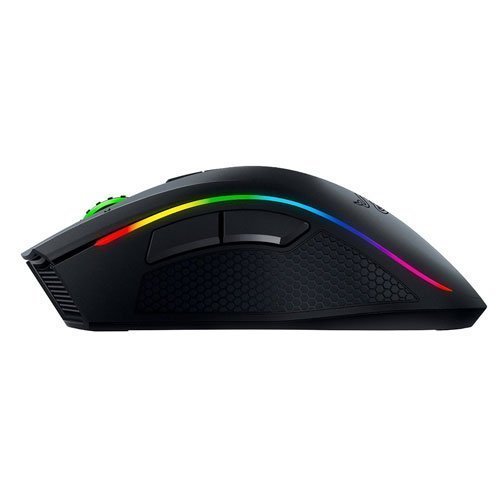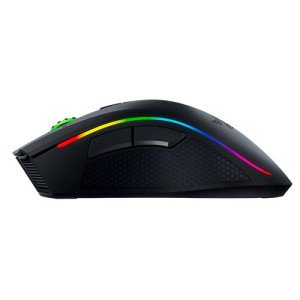 Razer obviously knows what they're doing when it comes to gaming accessories. They have been the market for many years and have created some of the best gaming products that professional gamers use today.
Gaming mouse that features 16,000 DPI
In this review we are looking specifically at the Razer Mamba in the very cool looking Chroma color theme.
This mouse is being described as the world's most precise gaming mouse that has a sensor with 16,000 DPI,  which is higher than any other we have seen before on any gaming mouse. This means that the mouse is "capable of tracking up to 1 DPI increments and a lift-off cut-off distance as precise as 0.1-millimeter."
The good
Users who have purchased this mouse and use it had great things to say about it. One user said that performance wise, this mouse is more than you'll ever need. The mouse is one of the most customizable and adjustable mouses when it comes to DPI and its accurate precision and it is extremely comfortable for many different types of hands and styles of gameplay.
Overall this is a great product that will help improve your gaming if you're using a terrible mouse, or an outdated model of a popular mouse. The grips on the mouse are very comfortable to use and the side buttons on the mouse are also very well designed to help give more of a natural curve so that you can quickly access those buttons whenever you need them.
The mouse works great for FPS games and will allow you to bind different buttons for different functions to help give you an advantage in game so that you will be able to rely more on your mouse and less on your keyboard.
The bad
There were users who bought this mouse were complaining that the wireless sucks. He said that he has to put the receiver right next to the mouse and that he can't even take them 2 feet apart without stuttering. He also said that the settings on the mouse might be broken because the liftoff distance doesn't do anything and the tan acceleration levels do not do anything either. So some of the functions may not work with his mouse,
but it is difficult to say if he's the only one experiencing the problem.
Other users were having problems with their batteries and said that the customer service isn't that great whenever you have a problem that needs fixing. However we recommend that you take the dive if you really think this mouse is for you, because we really don't think you're going to experience any massive problems that are going to require you to send the mouse back.