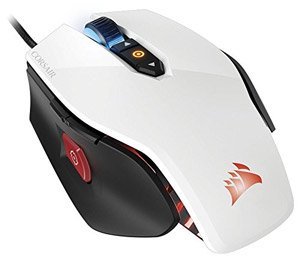 Today we are looking at the Corsair Gaming M65 and we are going to write a customer review guide on what you should expect with this gaming mouse if you decide to purchase it. This mouse was specifically built for gaming and has an extremely high laser sensor that can run at up to 8200 DPI. What that means is that you can expect this mouse to perform in a very quick and intelligent way that is both responsive and controlled.
If you're looking for a gaming mouse for your first-person shooter FPS games, then definitely get either this one or the black version that both have RGB back lights in the mouse as well as an aluminum design that should last you many years.
Corsair M65 Customer Reviews
Customers who have already purchased this mouse relieving 4 and 5 star reviews. One of these customer said that this is everything that you should expect from a gaming mouse and it is one of the best ones to use for a custom gaming computer build. It will also work with Mac if you have a 2.0 USB port and he also said that you can plug it into a PC computer for the initial firmware update and configuration.
Another user who purchase this mouse left a 4 out of 5 star rating and said that the mouse is very awesome and good to use but the scroll wheel is kind of sticky whenever you press it down. He said that other than not the mouse is very responsive and works well except for the program which doesn't seem to work for him.
Overall we think the Corsair M65 gaming mouse is an awesome mouse to add to your gaming set up and will be a great way to increase your performance in various games such as Counter-Strike: Global Offensive, Call of Duty: Black Ops 3, Fall out 4 or really any other game that is released in the future that requires a precise and accurate gaming mouse.
Corsair M65 Gaming Mouse Features
The M65 also features 16.8 million colors in the back lights which you can use to customize what ever color you want to use to light up your mouse. You can also store profiles with the specific mouse so that you can set it up differently from various games that you play.
Another great feature of this mouse is its response time which you can choose between 1000Hz, 500Hz, 250Hz, or 125Hz (1ms, 2ms, 4ms or 8ms). This is definitely a mouse that feels worth the money and one that can add to your gaming setup.