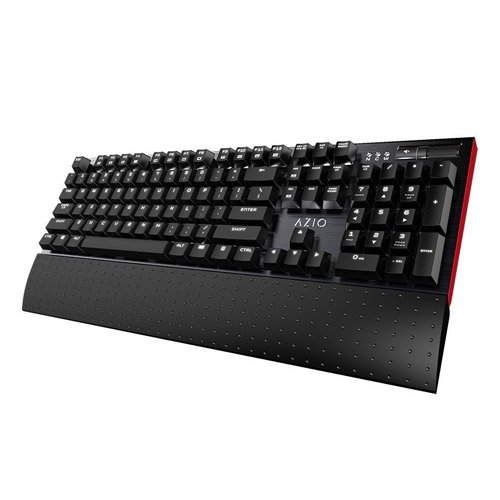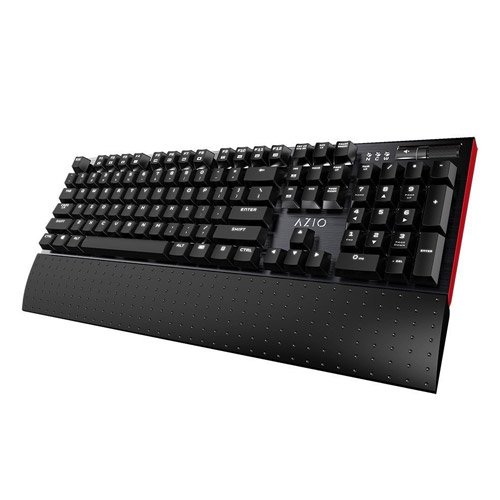 A good gaming keyboard is something that is often overlooked among amateur gamers and many streamers. Most people still believe that you can get away with a cheap $10 or $20 keyboard from Walmart and not pay any consequences when it comes to your gaming abilities.
In this article we are going to present to you 10 of our favorite top-rated gaming keyboards for the year of 2015. We are going to try to share with you the good and the bad about each one of them, so that hopefully you will be able to make a solid decision based on real user reviews before purchasing a mechanical gaming keyboard.
Should I get a mechanical keyboard?
The biggest decision you're going to have to make up front is whether or not you want a mechanical keyboard. A mechanical keyboard is significantly different than your typical keyboard, and it costs significantly more money. To decide whether or not you're going to want one for your gaming needs, you should first learn what a mechanical keyboard is, and whether or not you will need one.
What is a mechanical keyboard?

Mechanical keyboards are popular with the gaming industry. They are keyboards that use physical switches under each key instead of the typical button set up that you would find if you pluck up one of your keys from your keyboard. I personally own an old Logitech G15 gaming keyboard, and underneath my keys are rubber buttons that push down whenever you press each key.
Because the keys of my G15 are rubber, it is very quiet when I push down a key, and doesn't make a whole lot of noise. Mechanical keyboards on the other hand, because they use physical switches, are very loud and sound more like an old typewriter.
What is the advantage of using a mechanical keyboard?
The advantage is a noticeable increase in key recognition for your computer. That means whenever you press your A key on your keyboard to make your character move to the left, your keyboard will need to register that click and send the data to your computer through the USB cable, and then your character will respond in the game. While a mechanical keyboard is able to do this just a little bit faster than a regular keyboard, in that tiny advantage is noticeable enough to help bring professional gamers to the next level slightly in their gaming abilities. And in the competitive world of gaming, any advantage no matter how small should be used to improve your skills.
Here are the mechanical best gaming keyboards:
The HV-KB366L is a backlit wired mechanical gaming keyboard that uses blue switches to depress the keys. The awesome thing about this keyboard is that the backlights can switch to almost any color. This is great for creating cool effects when you're gaming at night and in the dark. There are also 4 different levels of brightness so that you can control how much light is given off.
The reason this is our number 1 rated gaming keyboard is because it has a 5 out of 5 star rating from over 25 customers. Users had nothing but positive things to say about this keyboard. The keyboard is a very attractive looking keyboard and will make your gaming set up look very nice. It's a very user-friendly keyboard and easy to program and customized to make it perform the way you would like it to.
The Poseidon Z mechanical gaming keyboard, much like the Havit above is rated with 5 out of 5 stars. It is a fully backlit keyboard that has an LED light under each cap. There are 4 different levels of brightness adjustments. The creators of this keyboard were so happy with it that they now offer a 5 year warranty on the brown switches that were specifically chosen by professional gamers and engineers to perform and and stay durable for long periods of time and under heavy use.
This mechanical keyboard by Mad Catz comes in 4 different editions, and the cheapest one is in the color matte black and is being sold for around $80. This is an anti-ghosting keyboard with a 30 key rollover, which means it is able to detect up to 30 different keys being pressed down at one time. Many of the cheaper keyboards that you could buy at stores around your house for 20 or $30 are unable to detect even to keys being pressed down at once. This means that if you're moving to the left in your game, you aren't able to jump using at the same time, you would have to depress the left key, then press and then move left again after letting go of the. While this is an a problem with this mechanical gaming keyboard, because not only can you run and jump at the same time, but you are able to do 28 other different tasks at the same time, too bad you only have 10 fingers.
Perhaps the coolest thing about the Wings of Liberty mechanical keyboard that uses blue switch gaming is that the keys are waterproof. Aula did a great job designing this gaming keyboard and they offer it at a very low price of around $50 plus shipping. It comes in a variety of 3 different styles using very simple designs.
There is a 26 key rollover with this keyboard,  unlike the 30 keys in the keyboard above, but that's still plenty more than anyone needs. The cable is 6 feet long and there is a goldplated USB connector.
The K70 in the Corsair Vengeance series is a very popular mechanical gaming keyboard. It's offered in many different styles and has nearly 1000 customer reviews with an overall rating of 4.6 out of 5 stars. This mechanical gaming keyboard performs very well for gaming and gives you tactile feedback with an audible click for typing.
Most users who purchase this gaming keyboard had great things to say about it, but there were a few complaints from users who weren't completely satisfied with their purchase. One guy said that use the keyboard for about 5 months and then the key caps lettering started rubbing off. My Logitech gaming keyboard has been in use for many years, and none of the keys seem to be rubbing off. So this is a worry for you perhaps you should buy their new K70 RGB version of the mechanical gaming keyboard from Corsair.
The Tesoro Excalibur is being talked about as one of the most feature packed mechanical gaming keyboards on the market when it comes to LED lighting, especially for the backlights of your keyboard to be able to see them at night. When you receive your keyboard if you choose to order the Excalibur, you should first install the software from their website and then you can configure many of the keys to create shortcuts and play around with the lighting options.
The great thing about this keyboard is that the keys are very responsive and performs very well for gaming, 's if you're looking for an affordable gaming keyboard and mechanical category, then this is definitely one of the good options that you have to choose from. There was however only one bad complaint about the keyboard and it was that it lags whenever the user was playing certain games, but that could just be a problem with the specific persons computer, because no one else was reporting this particular problem.
Now we're looking at the Storm QuickFire TK by Cooler Master. CM is one of my favorite brands when it comes to products for gaming, because they've created one of the best computer gaming cases that I've been using for over 5 years (HAF tower). This keyboard has gotten great reviews from over 600 people and has a 4 1/2 star rating out of 5. It is also available in 4 different options including blue switches with blue LEDs, brown switches with white LEDs, green switches with green LEDs and red switches with red LEDs, all of these are priced slightly differently, with the green switches being the most expensive ones, and the red switches being the cheapest.
Many users were satisfied with their keyboard and left 5 out of 5 star ratings saying that it performed and looked great. There were some users however who had problems with their TK and said that sometimes the keys would not work.
This is a gaming keyboard from SteelSeries and it is fairly popular in the gaming industry. The Z Engine from SteelSeries allows you to program all of your keys to function the way you would like and there are also 3 different color settings that range from blue to purple to red. It is a very unique looking keyboard that has a very bulky left side, but many people find it very interesting and fun to use.
Users who reviewed this keyboard who had problems were saying that the quality of the keyboard was a disappointment. He said that the gaming side of the keyboard was very great for gaming and that it is a very precise keyboard, but after a couple of months the S and W keys popped off which made the gaming keyboard unusable.
Although the MGK1 from Azio is rated fairly low on the list, it is probably one of the most attractive looking keyboards out of all of them. It has a very basic and simple layout, but the overall design is very sleek and sharp. It looks like something you would see and a futuristic movie while flying around in the spaceship. It uses a gunmetal gray anodized aluminum faceplate and kailh blue switches. You can also adjust the LED backlights which are white in color. There's also palm rest that comes with this keyboard and it is entirely detachable so that you can remove it and try out different armrests.
The ratings for this keyboard were slightly lower than some of the other ones with a 4.3 out of 5 star rating overall. One user said that the quality was fairly cheap and that after using it for 2 months the left control key stopped working. Another person said that they return there's because the backlight didn't work. So while many people are satisfied with their MGK1, some people were fairly disappointed, but those numbers are a select few people.
The BlackWidow Ultimate Elite from Razer is a mechanical keyboard that has some of the highest number of customer reviews on Amazon marketplace, nearly 2000. However with the high number of reviews you get a lot of bad apples who have experienced issues and problems with their gaming keyboard. That is why the rating for this keyboard is the lowest one on this list with an overall score of 4.3 out of 5 stars. Another issue with this keyboard is that it is created by a very popular gaming company, Razer, so it is priced at a little over $100, making it one of the more expensive keyboards on this list.
Keep in mind that this keyboard is geared towards professional gaming. If you're trying to become a pro gamer, in this keyboard might be perfect for you. But if you're only looking to play games casually or overall for fun, that is probably is in the best keyboard for you because the keys are still pretty loud. There were some other complaints about customer service from Razer and not buying the keyboard because of this reason, because if you ever have issues with your order you may have a difficult time getting an solution to your problem.
Conclusion
Almost all of these keyboards are great for gaming and they all function nicely as mechanical keyboards. These are some of the highest rated gaming mechanical keyboards on the marketplace, and each one of them should perform well and help improve your gameplay overall in the long run. The only thing to keep in mind is how high your budget is and if you would like to spend the extra dollars to get more features such as customizable keys or improved functionality. Perhaps you should choose based on the colors of LEDs and what would look best as your gaming set up on your desktop.