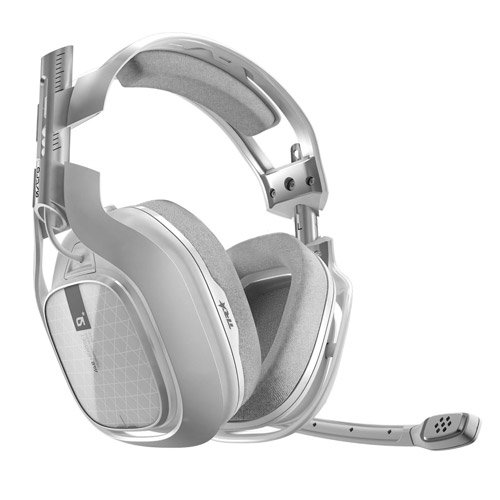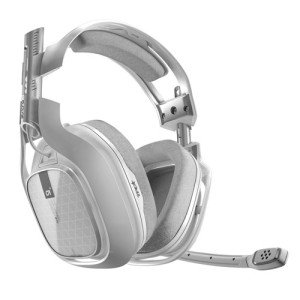 The ASTRO Gaming A40 TR Headset is one of the top and best PC gaming headsets of the year in 2019.
This is the latest release from ASTRO Gaming and they are already on their way to becoming the most popular and top-rated products of the year on Amazon in the category of Computer Headsets.
The A40 TR Gaming Headset is compatible with both desktop gaming computers as well as PlayStation 3 and 4 and Xbox One using a stereo adapter. It will also work with MAC.
The ASTRO A40 TR is currently priced at $150 and is available in both black and white colors depending on your personal preference. The black model is currently much more popular than the white.
ASTRO A40 Best Gaming Headset
Tuned for Gaming with ASTRO Audio: optimized by ASTRO audio engineers and pro gamers
Superior Fit & Finish: premium materials and construction, highly adjustable and lightweight
Mod Kit Ready: go from an open-back to a closed-back noise isolating headset with swappable Mod Kit components (sold separately)
Customizable Speaker Tags: personalize your headset with our magnetic speaker tag system; Host Interface: Mini-phone
Swappable Precision Microphone: Highly sensitive omni-directional mic that focuses on your voice and minimizes background noise. It can be positioned on either side of the A40 TR headset.
The overall look of this gaming headset is very stylish and futuristic. It definitely looks like a very high quality product that the developers put a lot of time into designing and putting together.
To summarize: some of the best features of the ASTRO A40 TR headset is its its tuning specifically for gaming using ASTRO's audio advancements with technology. Also its mod kit readiness as well as the switchable precision microphone layout gives it more customization than almost any other headset on the market.
The overall look of them gaming headset will also make may people instantly regret not buying one a lot sooner. If you have been using a poorer quality headset for a long time, then this will be a huge improvement.
Another great thing about these headphones are that you can customize them to adapt to nearly any environment, so that they are perfect not only for gaming but also listening to music with lots of bass and watching movies with vocal clarity.
This headset is extremely comfortable to wear for long periods of time, so that if you have tournaments that you need to attend or if you want to practice for an entire evening, you won't have to worry about your ears feeling uncomfortable or your head feeling too pressured from the tight ear cups.
The microphone in this headset is also noise canceling, so that your teammates will be able to hear you clearly and loudly and it will have the ability to be perfectly customized and ready for the latest games like Call of Duty: Black Ops 3 and even some older games like Counter-Strike: Global Offensive. It is already being used by some professional players from teams like Optic Gaming and Envyus.
ASTRO Gaming A40 TR Rating and Reviews
Although the Astro A40 TR gaming headset is a new release and there aren't a ton of ratings and reviews to base this review off of, there still many users who have already purchased this headset and found it to be extremely satisfying and a positive experience. There are some drawbacks to this headset that some users have experienced, and you might be interested in learning these before you decide to purchase this headset, just in case it ends up being a huge issue for you and you regret your purchase, which we don't think you will.
The main reason you would ever regret buying this headset would be if you experience a buzzing sound that some other users have noticed, or if you regret spending the $150 that they currently cost, which is rather expensive compared to many of the other much cheaper headsets available with similar high quality sound and comfortable design.
The most helpful customer review on Amazon was by someone who purchased the headset for their PC gaming computer as well as their Xbox One. This user said that the headset has been great to him and that he has owned them for about a month now.
After buying the headset he realized that you do not need anything except for a stereo adapter to use with your Xbox One or PlayStation 4. All you have to do is run a wire directly from your headset into the stereo adapter attached to the controller. He also said that you are provided with a splitter cable that will allow you to connect your headset to your PC computer and that this splitter also connects the microphone and the headphone jacks to the back of your motherboard or your sound card.
While some users have experienced a buzzing sound from their headset, the large majority of users have not reported such an issue. Most users who experience buzzing or static in their headset or their speakers have not properly adjusted their sound settings. It is important to find the best possible balance between the loudness on your headset settings along with the loudness and volume of your volume settings within your Windows sound manager. Right click your sound and play around with your settings properties with both your headset volume and the volume in your Windows sound properties to find the perfect mix of loudness and sound clarity without that annoying buzzing.
Other users who purchased this headset said that it is amazing because you can use it both for PC and for the latest generation of consoles. He said that overall this is his favorite headset and they only cost $150. For some users this is an affordable price for a high-quality product, but other users might find that saving $100 is possible if you get a cheaper headset with similar qualities. However if you can afford the money, then it is worth it to buy a higher quality product that will probably last longer and sound noticeably better than a cheaper pair of headphones that does a similar job.
Another user wrote in and said that it has a strong bass and an amazing sound. They are very comfortable and soft enough to use for long periods of time if that is exactly what you need, but they are not too soft that they will not fit nice and snugly around your ears and head. Many pros are already using this headset, and if you want to find out why then you're going to have to purchase a pair for yourself and check them out with some of the latest games.
Product info last update on 2023-09-27 / Affiliate links / Images from Amazon Product Advertising API