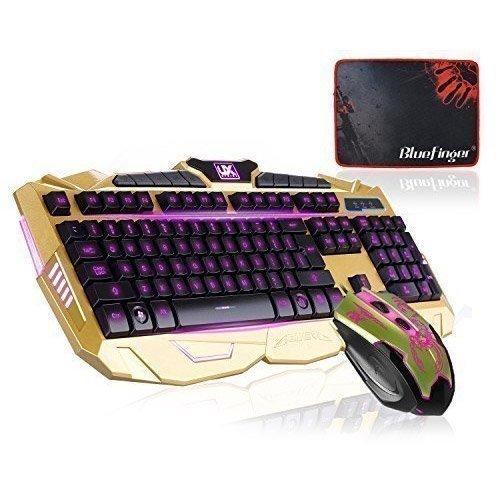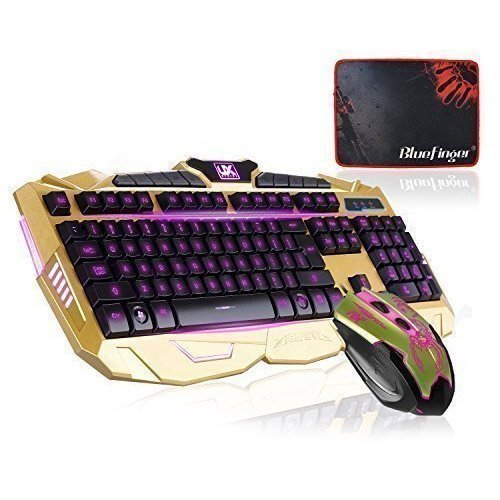 This is the BlueFinger Gold gaming keyboard and mouse set up that you can buy from Amazon along with the custom mouse pad. This combo is currently priced at just over 40 dollars with a 49 percent discount from 80 dollars. It is shipped with free shipping as well.
Find the cheapest prices for the BlueFinger Gold Gaming Keyboard online
The system requirements to run this is to simply have a computer that is running a windows XP, Vista, seven, eight computer with a USB port to connect your keyboard into as well as the mouse.
This BlueFinger Gold Gaming Keyboard & Mouse gaming set up has a spill resistant design which means that you won't easily damage it by spilling water on it however we wouldn't recommend testing this out.
There also multimedia keyboard controls that will allow you to adjust your music and sound in games and movies on the go so that you do not have to tab out of your current program to adjust your volume or pause your soundtrack.
There also function keys that were added and you can even change the color of the keyboard backlight by simply pressing the function of arrow or the function down arrow which controls the brightness of the keyboards backlight.
The mouse has a seven color backlight as well and their three adjustable backlight colors for the keyboard which include a purple, a blue and a red color.
The mouse runs on three different DPI settings which will adjust the speed of the mouse on the go from 600 dpi to 1000 dpi all the way up to 1600 dpi.
BlueFinger Gaming Keyboard And Mouse Reviews
The BlueFinger Gold Gaming Keyboard & Mouse has been purchased by hundreds of people online and there were over 100 who left a written review as well as a rating to let other users know what they thought about the keyboard when they purchased it and used it for a short or long period of time.
One user said that they were first skeptical about purchasing this keyboard but after purchasing it they were amazed with how it performed. The specific user had use their birthday money to purchase this keyboard and I have been using it for about a month before reviewing it and said that it is an awesome keyboard and a great product.
He noted that some products only focus on the design and lack in functionality. However this keyboard set up has a great design as well as a functional product and one that you can depend on as well for durability.
He said there only to cons to this keyboard and that is that the enter key is oddly shaped and might take some time to get used to if you're using a ordinary regular keyboard. Another thing he notices that the colors of the keyboard changes very easily but the mouse changes on its own sometimes.
The good things that he found about the keyboard was that you can get access to all of the keys very easily and the keys feel very firm and sturdy. He also said that there are three different colored keyboard lights that are changeable by simply pressing two buttons.
Another positive thing that he found is that the mouse dpi is much quicker than his previous mouse and it is great for both FPS and strategy style games. It is a very professional design and even though he thought it was a little bit over-the-top at first he said that now he thinks it looks great with his entire gaming set up.
The keyboard feels nice and stiff in his fingers and hands and it also feels like it's really well-made and that it won't snap in your hands by just using it ordinarily. He also said that it looks very sleek and stylish and his friends are impressed with it even the ones who aren't too into the technological world.
He would definitely recommend this keyboard to anyone who is looking for serious gaming and mouse keyboard set up and doesn't want to spend a lot of money.