Christmas is quickly approaching, and you're probably looking to buy some gifts early for some of the guys in your life. Well one very popular activity that many men take part in is playing video games. This is something that has been engraved into us since we were young children and we played things like Nintendo and Sega Genesis. This was one of our favorite ways to pass the time as a young child going through elementary school, and is something that sticks around with you all the way through high school with development companies pouring billions of dollars into developing next-generation games.
So if you're in the market for some gifts to buy either a friend, a loved one, your boyfriend or even a sibling. Whatever it is, as long as you know that they spend a lot of time on their computers, these will be awesome gifts to buy them and things that they will likely go wide-eyed over, because they're pretty awesome. They include things that are very affordable such as gaming keyboards, mouses, headsets and other very affordable items that you can find pretty cheap on Amazon by clicking on the item you like most.
Down below we are going to list some of the gifts that we think the guy in your life will enjoy that are less than $30. If you look through our Gifts link at the top of the site you will find a list of gifts that are over $50 as well. If you're buying this for someone that's more than a friend, then perhaps you'd like to spend a little bit more to get them a nicer gift.

The Sentey Lumenata Pro is an awesome piece of technology that was built specifically for gamers. However you do not have to use this mouse only for gaming because it is amazing for anyone who is looking for a very precise computer mouse. This may include people who are doing digital artwork such as graphic design as well as many other fields like architecture and those working in programs like Photoshop and AutoCAD.
Overall this would be an awesome mouse for anyone that needs a precise and very cool looking mouse.

The Redragon M601 is a another awesome gaming mouse that is exactly half the price of the Sentey up above. This mouse is awesome and it is very adjustable to get it working exactly the way you want. It would make a great gift for anyone, and just by looking at it, it does not look like a $14 mouse, it looks like something that would cost upwards of $80. Well that is because the list price is $59.99, and it is currently on discount for 77%,  which means you're getting an amazing deal and it is currently in stock.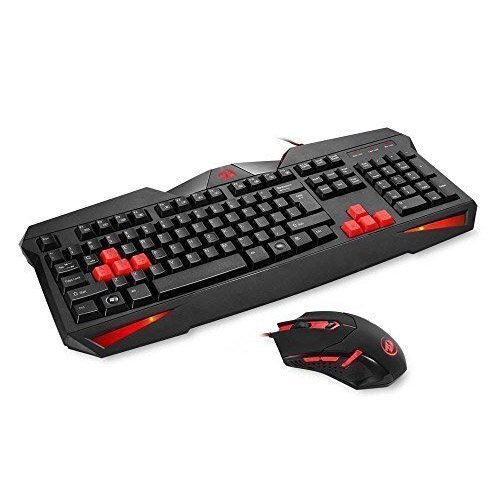 If you are planning on buying the Redragon gaming mouse up above, then perhaps you'd like to spend a little bit more and get a matching keyboard as well. This is a combination of both the gaming mouse and the keyboard, where you will get both of these for only $27. This is a great deal and it is currently at a discount of 46% from the list price of $49.99.
The keys are very high quality and they don't have a cheap feel to them like many keyboards would in this price range. It also comes with a braided USB cable, which are more durable and offer more protection and have an overall more aesthetically pleasing look. Overall this is a great value and would make an amazing gift for most people who are into gaming and most guys who use computers.