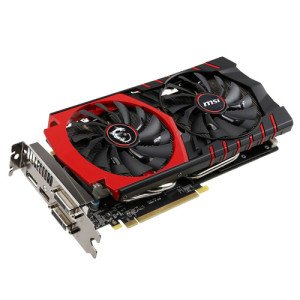 The MSI GTX 970 is one of the best graphics card that this company has released to date. As a 4 GB graphics card, it is fairly priced at $329.99. It rivals some of the other top gaming graphics card such as the one from EVGA which is currently the best selling graphics card on Amazon.
One of the great things about the MSI GTX 970 is that it is one of the quietest graphics card's on the market that still runs extremely cool. It provides you with more performance while maintaining a cooler overall heat because it uses the latest technology of GPU's. The graphics card overall is smaller but still has powerful fans that generate less noise but keep everything nice and cool.
The GTX 970 from MSI would match up very nicely with an MSI gaming motherboard and it would create a very nice custom computer build that has a very stylish look.
The coolers on this MSI graphics card are called Twin Frozr coolers in the feature the latest in airflow control technology which is able to direct more airflow straight onto your heat pipes using special deflectors on the heatsink. This increases the heatsink surface area and enhances the dissipation efficiently.
This would make a wonderful graphics card to add to a gaming build. It is one of the best looking at aesthetically, so it would create a very cool graphics card matched up with a all-black case and maybe some red LEDs. This gaming graphics card will perform for many years into the future and will be able to allow you to play all of the latest games on maximum settings, as long as the rest of your computer isn't lacking such as your computer's CPU.