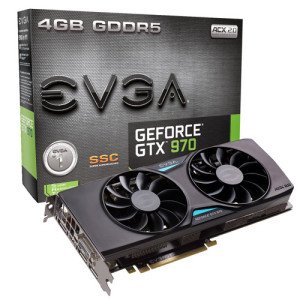 If you're in the market for a video graphics card to put into your gaming computer, and you want to put one of the best graphics cards available to help you play the games that you want to play at the highest possible settings, then you are going to want to get a graphics card like the GeForce GTX 970.
The 970 provides you with 4 GB of video memory, which means that you will fulfill the maximum requirements for all of the latest and newest games for at least 2016. Most games currently only require 2 GB of video memory for a graphics card to be able to play smoothly, I however am running a 3 GB graphics card, so I'm still able to play all games on the highest settings.
Today we are looking at specifically the EVGA version of the GeForce GTX 970. It is the number one bestseller on Amazon, and is currently priced at $315.19. That's 10% off of $34.80. You can also get this graphics card shipped using two day shipping and it is also shipped directly from Amazon so you don't have to worry about delays and can expect your hardware to come on time at your doorstep.
Check out some of the tech specs to help give you an idea of what you will be getting if you choose to buy the EVGA GeForce GTX 970 graphics card. It's an amazing video card for gaming builds and won't put a huge dent in your budget. You should be aiming to spend $1,000 – $1,500 total if you decide to go with this graphics card and are building a computer from ground up. If you buy cheaper parts, then your processor or your power supply unit or other components in your gaming build will hold your graphics card back and you won't be able to take full advantage of the huge amount of video memory available.
Technical Details
| | |
| --- | --- |
| Max Screen Resolution | 4096×2160 |
| Memory Speed | 7010 MHz |
| Graphics Coprocessor | NVIDIA |
| Chipset Brand | NVIDIA |
| Graphics Card Ram Size | 4 GB |
| | |
| --- | --- |
| Brand Name | EVGA |
| Item model number | 04G-P4-3975-KR |
| Item Weight | 2.7 pounds |
| Item Dimensions L x W x H | 10.10 x 4.37 x 2 inches |